Have you reviewed the guide for contacting potential installers? It's at dngr.us/guide - hint: Calling will always get a no.
The majority of them saw the paperwork but they still refused. The specifics may have gotten me but I only called one store so I will try again with a new store near by tomorrow.
I legit thought most everyone installed their own mods. Ones that come in a syringe with a trocar are very simple. Tent the skin, insert, make a pocket with the trocar and then inject. Stop the bleeding, sterilize, suture or apply steri-strips to seal the wound shut.
If I were nearby I would certainly assist. Sorry

. If you need pointers on self-install just inbox me.
Agreed, that simple
dont forget
BEVEL DOWN
I've always done bevel up without issue but I'm going to try bevel down with my NeXT that I should have soon. I'll post here my experiences with both methods.
I did bevel up on my NeXT and Vivokey spark, I'm going to do bevel down for my xLED (coming hopefully soon, only ordered it the other day). I can definitely understand the reason for bevel down, cause bevel up leaves that lil skin flap from the puncture.
I recently had my body mod artist help with a xG3 install in the tragus. He usually does bevel up, but I convinced him to do bevel down which turned out pretty critical for this type of install. Beyond the flap of skin issue when you do bevel up, it also causes the needle to plunge downward into your flesh as it travels, rather than skirting the surface. If you do bevel up on a tragus install you might get jabbed in a jaw muscle.
Wow, installing the xG3 in the tragus? What's your use case for that? I've considered getting the xG3 at some point, but always thought the hand or wrist would be place for it, so I am very interested in what you plan for it, cause that sounds like it could be really really neat.
The use case is a wireless headphone driven by a coil around the neck. I'm going to make a detailed post about it when it's finished.
I love the "out of the box" thinking and projects.
Look forward to hearing

how it goes
Who's up for an xG3 implant in a tooth?
Bone induction for internal music, open mouth for speaker…
Anyone???

It's all fun and games until you try to chew something with an xG3, but just picturing a mouth with all teeth swaped out with xG3's is certainly hilarious
But back on topic, I self implanted my NExT and xG3 some weeks back with no problems what so ever.
As seen in the picture I used a plier to grab my skin (couldent find my forceps), and I used some rubber bands to "lock" them in pinching mode.
The hardest part of it all was to make the suture with one hand afterwards. But in hindsight I guess a piece of medical tape would had sifficed.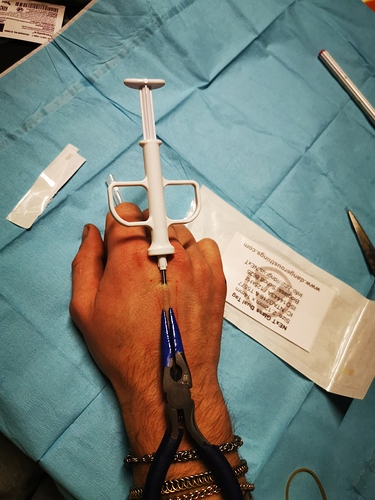 I did mine by myself, no issues 2 weeks later!
I know someone in the Pacific Beach area, if he is still there. His name is John, at Enigma piercing. Definitely go in to ask him though, I wouldn't call. He is likely to want to do the procedure after hours.
I like your profile name.
On a real note, mine are in the mail right now. Was it challenging to do it yourself? I bought the Ultimate bundle with three implants so I will end up getting practice if I go that route (there's no one within a 6 hour drive that can do it for me).
I did mine myself. Best thing to remember is don't back out. It might sting a bit but you have to roll with it. Watch Sparkfun's video and look at the pro guides. It's easy enough that I didn't mess it up which is surprising since I mess everything up lol. Overall though don't go too deep to where you hit muscle, make sure you push the needle in enough to slightly beyond the end of where the tag will rest. Inject about 2-3mm in front of where the top of the tag will be.
For me, it only stung wile piercing the skin. Once the skin is pierced there was no pain at all and its easy enough to create the cavity for the capsule.
There might be nobody LISTED that can do it for you…

Although if you do go down the "Self" install route, Try and get somebody to help you
( I Know that is not SELF )
3 hands are better than 2
Also, just simply talking to someone who is familiar with this kinda stuff will be helpful.
Things like "If you feel this don't panic and hit reverse" scenarios, sometimes more damage can be done trying to "undo" an action.
I'll give you an example;
When I pressed the plunger and inserted the chip I began to pull out and I could see the bevel, yeah yeah bevel up I know shut up
, and could see white inside the needle.
I thought to myself "Oh shit, the chip didn't insert. I'm going to have to either give up or go back in" I couldn't redo later because it was no longer sterile so I thought my only option was to go back in.
Now this all happened in my head in the span of about 5 or 6 seconds.
Then it dawned on me… the bloody plastic of the plunger is white…
Thankfully I had just paused and let myself relax before doing anything. Just pulled the needle out and put a plaster on it. Was writing to the HF side of the NExT within 5mins.