Hey everyone!
This post isn't a tutorial, but theres a lot of things you'll be able to take away from this if you're wanting to build you own. Figured if I'm already making one, I may as well share my journey and write it up for those playing along at home!
Thanks to @TomHarkness for getting me on the right track with this - without further ado, let's get this project started!
Supplies acquired! @TomHarkness suggested 9mm ferrite rod and 0.25mm enamel wire as a place to start, with the rod cut down to about 2.5cm
The Dremel probably wasn't the right tool to use for this, but its what I had. Take it slow, wear eye protection!
I found that winding the coil is all in the fingers, again a tip from Tom, a drop of superglue at the start and the middle as you go will hold it in place and make your life easier.
Once I was getting close to the end, I found a bit of masking tape holds the end enough to test tuning, I wanted to avoid glue here until I tested it so I could add or remove turns as needed. At this point, I connected the ends to my proxmark, leaving plenty of extra wire on the end incase i needed to add turns and…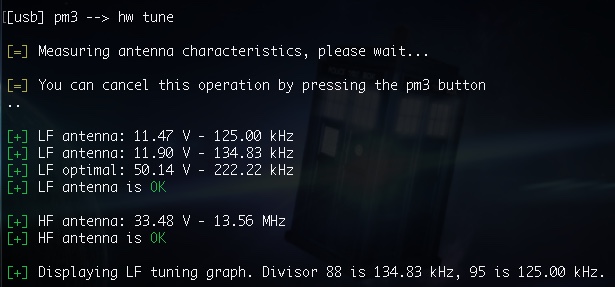 Damn, 222.22kHz - a little bit away from the 125kHz I'm looking for. Time to add more turns and try again…
Better, but not better enough. And I'm out of room for more turns… damn… not sure why I was so far off, I imagine the dimensions on my supplies may be slightly off and messing up the number of turns. Well, I need more! Let's try this again…
Alright, time for another test…
Wow, much better! At this point, no joke, I took off exactly 1 turn and ran it again.
Yeah, I know, I didn't believe I hit it exactly either!
It's not as impressive as the ProxLF antenna, but I'm now getting reads a little bit off the antenna to my tag that is implanted pretty deeply.
Watch this space! 3D printed holder to screw this in to the Proxmark coming, in the meantime, check out this installation!
Read performance is far better than the stock antenna! But I'm still struggling to get lf t55xx detect or trace commands to work. Not sure what's going on here as I managed to get them working on even the stock antenna (this antenna does them with a test t5577 card too) - A little more playing to go, but so far I'm very happy with this thing!
Thanks again @TomHarkness - would love to hear your thoughts on how I went and suggestions for next time!
Thats all for this chapter, thanks for coming to my TED Talk!