Hi all,
So here's where I am at;
I have just received my Ultron Upgrade Kit ( Great value ).
My project is to install an RFID reader on my car and to use this to unlock my doors ( Central locking, No alarm) using a Flip-Flop latching Relay attached to the same circuit, this same equipment will then allow me to install a push to start button.
I have ordered 2 items from Ali-express for this project ( It will take 4-6 weeks to arrive ) in the interim I have sketched up a pictorial wiring diagram, which in THEORY I think will work… but here's where I ask this generous community for help, (hopefully will assist a whole lot more people than just myself).
Where I am not certain is, where / how to include the Flip-Flop Relay into the circuit. I am HOPING that when I scan the RFID tag, this will provide 12V to the relay to trigger the central locking mechanism to alternate lock / unlock.
As I say, I am waiting for these items to arrive so can't do any testing as yet.
My master plan is to do this to my whole families vehicles and therefore a shared key amongst us all.
If successful, I may try and introduce the concept to my work.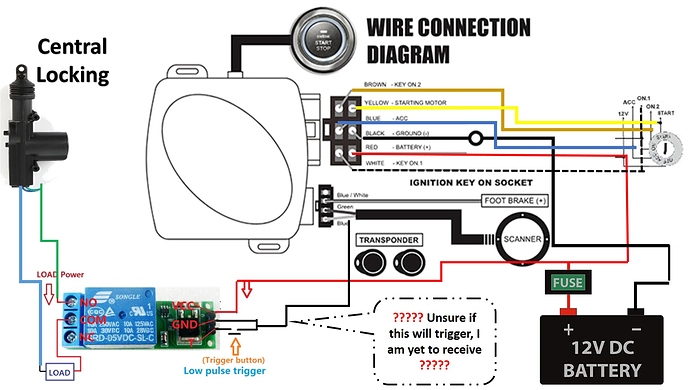 FLIP FLOP Relay

RFID Push to start

Thanks in advance for your time and any assistance