Which chip have you tested?
My xNT also seems to have only one sweet spot, but I can't read my Spark 1 at all, which is weird as I could read it normally with a Mi 8
Keep trying, but with the same sweet spot as the xNT. There's an issue with a few Android phones where they have trouble reading ISO 15693 tags like the Spark 1. On some phones it's intermittent, others it doesn't work at all. Restart the device and see if you can get it to read after a few tries. Use the TagInfo app by NXP if you're encountering issues. Let us know how it goes.
Not even an error message, even after restarting
Didn't notice this thread til now!
Can confirm the Samsung Galaxy A50 also works, top third of the phone in the center. Tested with a NeXT and Spark 2.
My OnePlus 7T Pro 5G works well with my XSIID in the top left corner
@wendysighs & @Aoxhwjfoavdlhsvfpzha
Thanks guys, I have updated the wiki and linked to your posts.
If you have missed this, you may have also missed some other hidden golden nuggets, I would definitely suggest you check out the Wiki, info and faq categories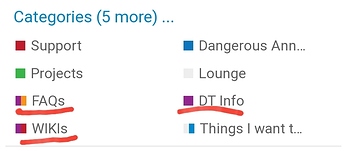 MI10 performs admirably
Works through case
Antenna seems to be nearly same as all cameras but on the other side, maybe a bit lower.
Updated and linked back to your comment, Thanks
PS
Any additional info added to your post could help out others ( ie, approximate locaton of the NFC antenna, reads through case etc )
Xiaomi MI 8 works great with my NeXT, antenna seems to be in the same place as the fingerprint reader (located in the back of the device)
Samsung Galaxy S10e can be finicky with the xNT while a case is on, but works great without one
Wanted to update my previous comment stating the ulefone armoire 3 and 4 worked and the best location and orientation is having the chip vertical up and below the camera by about an inch. It seems all ulefone's I've experienced so far read best at the top 1/4 of the phone. I was also going to ask if anyone with a pixel 4a could chime in as I'm thinking about upgrading my phone as it's quite a bit old now.
Thanks for that, I have updated the info…even though I hated spelling Armour
incorrectly

I've updated my comment to follow your spelling conventions

now onto hoping someone with the phone I'm looking at also has an implant and posts that it works. Otherwise this dude is masking up and bribing an att employee so I can run around the store testing every phone and taking notes like a madman for the forum
I get best results with my Samsung S9 when lining the chip up with these two lines on the back of the phone - conveniently, that lets you use your index metacarpal against the edge of the device as a reference if you've got the chip nearby.
Implante next en izquierda y spark 2 en derecha, los dos con informacion de contacto y he aprendido una cosa, no se el motivo pero es asi, si escaneo con samsung, spark;si es huawei con next, es dificil el next con samsung, sera por nfc2 y spark tipo4?
Getting the weirdest result with my phone / case combination
iPhone XR
Otter box defender pro
(A plastic inner frame with a silicone outer cover)
My nfc chips aren't reading with the silicone cover on, but if I take it off and leave the inner plastic frame it reads easily
I know… your going to say the silicone is adding too much distance and absorbing the rf right?
Well my Xsiid lights up great thru the silicone
It's like it's not blocking it, more like scrambling it a bit
I use to keep my iPhone X naked but recently added a leather case. Makes the orientation I have to read my xNT completely different. Possibly unrelated but
Blackviews S U C K for NFC performance. Can't get any read on my Flex One at all. Currently exploring a coil to boost signal.