Currently have the Samsung note 10 plus, and Galaxy 8 and both work great. If that helps
I have the Pixal 3a and this is the orientation I've found to be the best.
Green shows a near 100% read success with the NXP apps.
Yellow show an unusual hand position but also readable.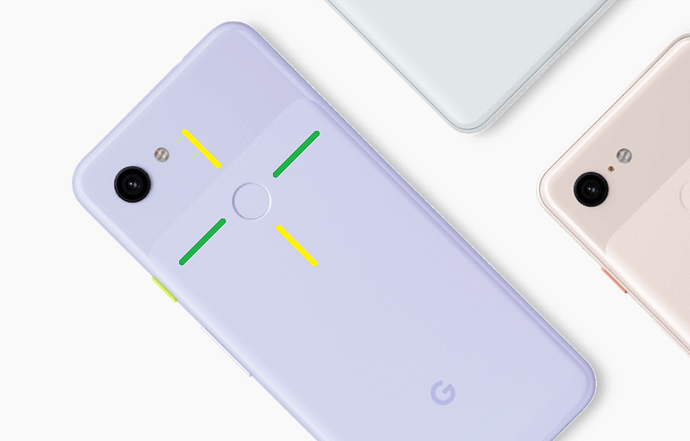 I have a Google pixel XL, and it works very well. Similar orientation as aemun listed
Moto Z Force 2 reads all tag types well. Sweet spot is at the top right of the phone, between the speaker and the front-facing camera light. For flex tags you want to place the tag parallel to the top edge of the phone. For borosilicate glass tags you want to place the tag perpendicular to the top edge of the phone.
OnePlus 6T here. Reads much better than any other phone I've tried including Samsung S8/S10 and Pixel series phones. Sweet spot is up by the camera.
OnePlus 5T, never had any issues. Sweet spot is right on the camera lens, with the chip parallel to the two lenses.
The OnePlus 7 Pro has the best read of any of the 10+ phones I've tried my implants on, even through case. Truly impressive NFC antenna compared to other mobile devices. I suspect their other recent models work similarly as well.
The Note 10+ 5G as I stated in another thread works great. In fact with more testing specifically to see how well it works its been flawless. I tried to see if I could find a bad coupling with my NeXT and couldn't unless I purposely moved it too far away.
This is with the Otterbox clear case on too. My Note 8 works well but when the case is on I need to be right in the middle of the phone. Yet it still works well.
I hope this helps.
galaxy j7 2016 works fantastic. have a fairly thick plastic case, no issues reading at all
iPhone X here, SimplyNFC app for reading. Works like a charm. NExT
Honor 9 lite doesn't work with vivokey
I assume this is the Spark 1 which is ISO15693. Can you explain further what the symptoms are? Does it not read at all, or does it say "NFC Error" in the VivoKey app? If it says error, then continue to hold the phone over the implant … generally it will get successive errors and finally get a good read and let you in.
Yes, that type of problen
Xiaomi mi 9 looks like it has only one little sweet spot

You can add Honor Play to the Wiki as compatible.
Done, and added Lite version to Non-Compatible.
I wonder if I should alphabetise the list

Nothing wrong with a little organised chaos, I guess
EDIT Wonder no more…alphabetical now
Thats 4 people, who said, that honor 9 lite doesnt has nfc