CUSTOM WORK
(JAKCOM N2 Smart Nail)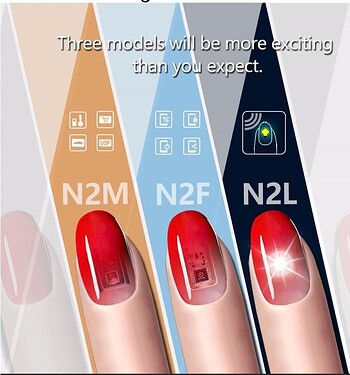 JAKCOM N2 Smart Nail Simulat IC Card Connect Phone Flash LED Smart Manicure New Smart Wearable Gadget N2M N2F N2L 3types in 1set (N2F)
INTRODUCTION
A number of years ago I bought 3 "NFC things" that were made by the same company (Jakom)
Smart nail N2M = M ifare S50
A Smart Nail IC (MF1k)

Smart nail N2F = NF C
A Smart Nail NFC (NTAG213)

Smart nail N2L = L ED
A Smart nail LED ( as seen in some of the prototypes DT have produced )
You wouldn't think it looking at the size, but these are great little performers, and the range is very surprising.
I'm not a blinky boy, and the nail sticker have proven to be not the most robust as an implantable, so the LED was out.
The NTAG213, is a great little device, but it's a 213, so it's a step down with regards to the DT NTAG216 stock implants ( xNT, NExT, FlexNT etc.)
The MF1k, Okay, so now we are talking… THAT is what I had the Custom work done with
WHY GET THIS DONE?
The DT range of products covers a large chunk of the RFID access card market, but sometimes, you just can find the product that will suit your needs.
I already have a FlexM1 gen2, And I L
VE it, I was considering getting a FlexM1 gen1a also, but DT are currently out of stock (as at 19/11/23) until the antenna redesign is complete; Could I have waited for the new version, YEP sure, BUT, I really like the performance of this tiny MF1k cute little button, and it will give me some other install options, that I wouldn't have with a longer implant.
Plus I get to share this experience with you guys, and hopefully you have your own and better ideas to share and bring to reality.
Who knows, YOUR idea
might become the next product in the DT store, and you will know that your's was the first and the inspiration.
Look at the FlexClass for example, that is a great community member development project.
DETAILS OF MY CUSTOM WORK
This is how they are were sold ( good luck finding them, but if you do, please share here )

With the original design being made to glue under false nails, but obviously, we want out RFID "things" under our skin.
CLOSE UP
It appears to have a very thin plastic shell, covering the chip and antenna.
THE PROCESS
RANGE TEST ( Is it viable? ) SPOILER: YES, IT SURE IS

ENCAPSULATE

DIMENSION

CUT & STERILIZE

TESTING INCLUDING READ RANGES

In Vivo testing to be done once I have it "in hand"
TEARDOWN
I have the NTAG213 version that I may pull apart to reveal the Black magic that allows such great performance out of something so small…Or I may just send it to Amal, if he or somebody else wants it…
PROs
• Pro of the Custom work is: You get what you want
• Pro of the form factor of this implant: I am running out of real-estate on my hands and need to plan for that with different form factors
• PRICE: Well priced for custom work; Time, Materials, pre and post preparation, sterilization, packaging, postage etc.
• I was also impressed with the turn around time, Once Amal started on it, until he finished was very quick. Just bear in mind, that he's a busy guy, so this will depend on his other commitments.
Infact, I held him up, by not providing the shipping details sooner
• It was my project that Amal facilitated, so without him, I COULD NOT HAVE DONE THIS
CONs
If I had to find one thing, the maximum Z height of encapsulation is 4mm (I think), but infact, that's probably a good thing…SO…
None
PRICE
USD$ Project dependent
SUMMARY:
Super happy, super impressed with the service, I got exactly what I wanted and couldn't have doe it if this service didn't exist
LINKS AND RESOURCES
POLL
Rating by the community
PLEASE ONLY VOTE IF YOU HAVE ONE OR HAVE USED ONE
=

=
=

=
=
CUSTOM WORK 1-5