One of the answered questions states it doesn't work with 13.56Mhz fobs.
So my guess is it would not work with the NExT.
Hmmm…
Their website you can download a "data sheet" for the lock but its just a single page PDF trhat says "Mifare card" but doesn't give specifics.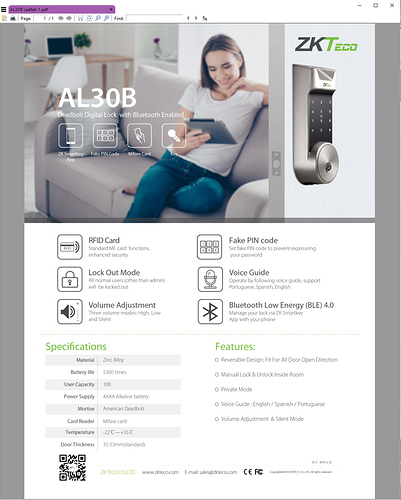 I don't mean to be a downer, just don't want you to go spending your money in case it doesn't work.
Saying that, if you are okay buying it from amazon, just assemble the lock before doing anything to your door and test it. If it doesn't work, amazons' return policy has your back I guess


Appreciate you being so helpful! God I wish Samsung didn't change their lock firmware to exclude my chip. Do you have any suggestions on locks that do work with NTAG216 / Mifare Ultralight?
No worries. Regarding other locks, I'm not sure. Deadbolts are not really a thing here in Ireland so I never looked into them too much. I don't think the samsung ones update via OTA or anything so if you could get an older version, maybe a batch date if you are able to look at them physically in a shop.
Again, you could roll the dice on amazon, or possibly get an older model.
Sorry I can't give you a straight answer.
Dangerous things website has a great lock they needs a little building but guarantee it will work great I got 2 one installed in my office and one home