Placed an order on the 23, didn't receive order confirmation email or tracking number.
That's weird, I have never had any issues…
EVER.
I guess you have checked Junk? Spam?..
if no luck, I would reccomend you contact DT directly.
They are really good at after sales, they will be able to help you out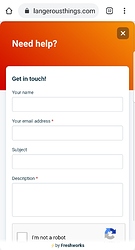 i did try that but i didn't get a response. i also check the spam to no avail. thought i would try this because it says some staff is on here.
Are you certain payment your went through?
Have you checked credit card details etc.?
Just get as much info ready to go as you can.
Date, time, products/price etc.
@amal is on here daily, (the big boss man) who should be able to help you out.
Alternatively @mdanger normally looks after these matters.
As you have just joined the forum you probably won't be able to PM them, they will likely see this post and be in contact with you shortly, just give it a couple more days
yeah im sure it went through, thank you pilgrimsmaster for your help.
Probably entered your email address incorrectly, Email them and they'll update it for you. If you live in the U.S. you can open an account with the USPS and track all your packages, Even ones you don't have the tracking number for, The app is called 'Informed Delivery'
Heres what it looks like:

I've been monitoring tickets coming in via the help… any shipping information requests have been sent to our fulfillment manager @mdanger… she should be responding soon.
How good is DTs customer service?