Plan???
How bout this. You see something awesome, drop a link to it in here, we sort it out in 7 months.
I guess I should add,
A.) Feel free to bring up anything already posted in this calendar year.
B.) Try to only submit the really top shelf stuff, keep the clutter down. As a rule of thumb, needs to be (subjectively) as good as what got posted before it. We are looking for a post that stands above all else, after all.
Good luck.
Are we just going for like humorous things? Like similar to the one above? Or are equivalently cool projects or helpful support replys?
I don't want to limit it, but humour will probably win out. It's all about being THE BEST post.
So…
Humour
Wit
Timing
Wicked Dry Observation.
What impresses YOU as the best post so far?
Nominate what you want. Just remember it's gotta survive a vote showdown at the year's end.
Some search filters might help suss this out: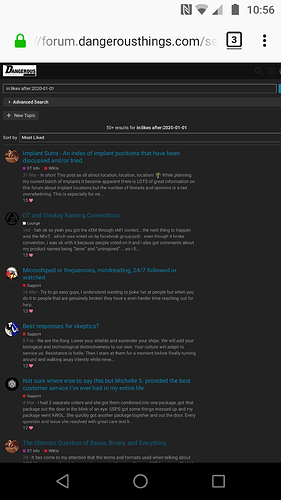 We should probably omit DT product announcements and housekeeping posts.
I nominate this one!

I found this pretty fucking entertaining - it had me giggling out loud; educational and hilarious
Gonna have to throw this one in the mix
Heh thanks.
And the irony of it all is, I'm one of the few here who have exactly zero interest in the Titan

I mean, cool device and all, just not for me.
The year is coming to an end soon… here's another nomination
Fwiw, I figure I'll probably plan on a mid December wrap up, and vote showdown till the end of the year or so. Probably best to have any final entries in by then.
That reminds me, It's time for a showdown!
I'm gonna recap, then we'll have a vote-off. To that end, I think it's time to end all new submissions.
Entry 1

Entry 2

Entry 3

Entry 4

Entry 5

Entry 6

Entry 7

Entry 8

Entry 9

Entry10

Entry 11

Entry 12

So there you have a dozen fine entries all primed and ready to be the BEST POST OF 2020! Please take the time to look at them all, and then vote in BOTH of the surveys below. The first survey is for The Best Post, and the second is for runner UP. Both polls close at 11:59 pm, on December 31, so take your time and get it done by then.
The Best Post of 2020
01
02
03
04
05
06
07
08
09
10
11
12
And remember, the second poll is for your second choice, a.k.a. the runner up.
Runner Up to Best Post of 2020
01
02
03
04
05
06
07
08
09
10
11
12
Looking pretty split so far. Place your bets now.