Заказал метку она не читается смартфонами
Какой компьютерный чип вы заказали?
Title
The label cannot be read
Content
Ordered a label it does not read smartphones
Reply
Sorry, I can't understand your question.
Could you try asking it again but using different words?
Did you mean
You ordered an implant but you cant read it with your smartphone?
If so, What implant?
Translated
Извините, я не могу понять ваш вопрос.
Не могли бы вы спросить это снова, но используя другие слова?
Вы имеете в виду Вы заказали имплантат, но не можете прочитать его со своего смартфона? Если да, то какой имплант?

What phone do you have?
What app are you trying to read with?
Try these
TagInfo
Tag Writer
Have you implanted the NExT? or are you trying to read whilst it is still in the syringe (You wont be able to)
If it is implanted:-
Make sure your Phone is unlocked with screen on.
Make sure NFC is turned on
Take any phone cover off the phone
Try reading NexT on the back of the phone ( Top edge for iPhone ) in different orientations and move slowly, Check this guide for KNOWN compatibility.
Give that a try, and let us know how you go
Как запрограммировать метку… На другом телефоне все хорошо ключи никак не запрограммировать
P20 lite does have NFC, I'm not sure where the exact position is, but this is a GENERAL guide to try.
Place your implant perpendicular to the antenna to read and write to it. make sure you hold it still

You might also want to try NFC Tools
and maybe a little more reading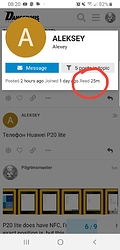 Sorry for russian, guys.
Антенны в разных телефонов имеют разную чувствительность и мощность. Иногда требуется очень много времени чтобы найти положение телефона и импланта для корректного считывания. Можешь поискать примерные схемы своего телефона, чтобы понять контур антенны. Про это как раз Pilgrimsmaster и говорит.
Чтобы найти положение, используй приложение типа NFCTools и медленно перемещай телефон над имплантом по контуры антенны.
Ну или вариант - найди другой телефон для "прошивки".
Под "Как запрограммировать метку…" что имеешь в виду?
Different languages are all good now. There is a translator added into the forum just recently, so you can just press a button at the bottom of a post and have it translated
Вопрос не по теме конечно сколько ключей можно записать на один чип??? И как?? Записал ключ от дома все хорошо было потом записал дополнительно пропуск после этого ключ от дома не читается
Typically keys are not written to the chip, the chip has a unique serial number which is programmed into each door or device you want to interact with. That door or lock or device holds a list of unique serial numbers. This model allows your chip to be used with an infinite number of doors or locks, and also allows the locks to carefully curate it's own list of allowed chips. This is a much nicer model than traditional metal keys which need to be duplicated and distributed, destroying the actual security of the entire system.