An animal RFID tag I ordered jut arrived. I got it because I discovered that the pm3 support for animal chips is lacking, read seems to work fine but cloning only works for some fields (admittedly I don't know why you would want to cone a animal ID tag) and as much as I love my kitties they did not seem like they wanted to help.
I thought since I have one out of the injector and a pm3 I would detail some of the stuff about them in case someone was curios and either has no pet
or there animals do not want to help.
If anyone wants me to test/do anything with it hmu.
This is what my PM3 spat out:
[+] FDX-B / ISO 11784/5 Animal Tag ID Found:  Raw : 53 33 71 F2 5A 6F 00 01 
[+] Animal ID          0985-113003908298          
[+] National Code      113003908298 (0x1a4f8eccca)          
[+] Country Code       0985          
[+] Reserved/RFU       0 (0x040)          
[+] Animal Tag         True           
[+] Has extended data  False [0x0]          
[+] CRC-16             0x38C2  [ OK ]           
[+] Valid FDX-B ID found!

This is what it looks like: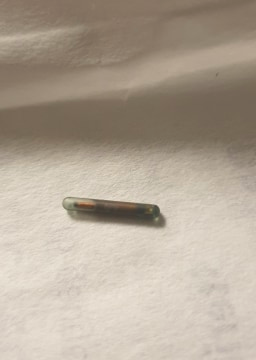 Sorry I did not think to get something for scale and now it stuck to card so I do not loose it.
I shall post an update on how I go with upgrading the support for animal tags so that this post conforms to the Project category I put it in.