Fancy building your own implant bundles! All with discounted prices and the ability to choose pick and choose between the implants that suit you? Look no further… use the KSEC Custom Cyborg builder to create your own customised package.
https://cyborg.ksecsolutions.com/product/custom-cyborg-builder/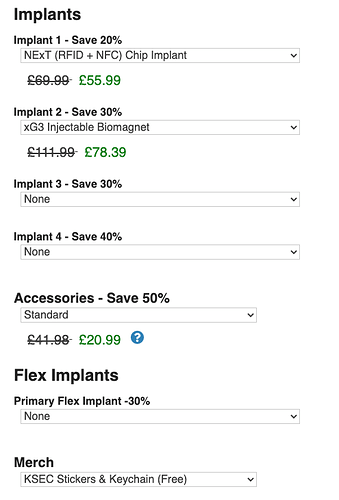 Build your own KSEC cyborg package ! You'll be able to choose from a wide range implants both xSeries & Flex and accessories.
How it works:
1: Select both your first & second implants with 20%-30% with discounts
2: Add up to two more implants with a maximum of 40% off!
3: Choose your accessories, either standard or complete kit with 50% off each
4. Add an optional flex implant with 30% off
5. Receive free KSEC merch or upgrade to a merch bundle which includes a T-Shirt and keychains
All custom packages will receive free KSEC stickers and a keychain.