I am going to update this as I go along. I hope by posting it here, I will be motivated to actually carry it out.
You read it right though, Cyborg Chopsticks. These are going to be the choice for all future cyborgs, they are self powered, unlike you and your fragile body. These are also antimicrobial to help keep your weak immune system in check as you don't have a hard restart option… yet.
My plan is to find a torch that can melt silver, and cast silver into 2 chopsticks, and then go to town with a file or drill, depending on which design I go with. I can also hammer it out, as my torch gets hot enough to make silver red at least.
I figure for the wide end I will have to source someone with a metal lathe to make the end caps I want, and if not, I have a plan to keep the vial in place, it would just look better.
Here are my 2 ideas for designs:
This first one was my original idea, then Photoshop stopped working for me, so I took a break and came back and it recovered it! (After I thought of a different design)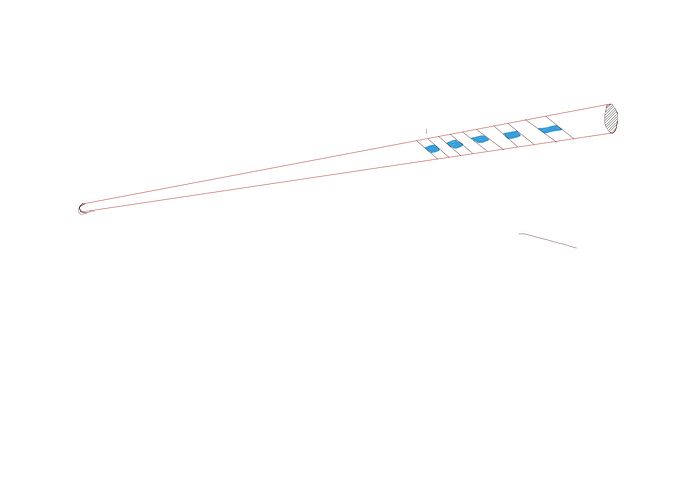 This is the second design I thought of, and I like it more. It will be way more easy to accomplish and I think it would look the best. It would also help protect the vial inside if I cannot source one in tough glass already. (I may not want a thick enclosure anyways)
So that is where I am at. I have silver already, so that is taken care of. I think over the next few days I will work out how to cast it (buy a torch or source one), or hammer it out. Only issue with the hammering is I would need to start with 1.5 or 2oz of solid silver per chopstick, and all my silver is in junk form.
Once I get the main chopstick done, I will drill down the middle to have a solid place to hold it, and base my design off that. If I can convince the wife that we NEED a dremel drill, I will be able to have a way more intricate design.
My Photoshop skills are terrible I, from now on, will just draw on paper and take a pic of that with my phone.