Sorry if these are redundant questions,
I'm a big believer in RTFM if you don't know enough
And you guys are the manual
Body mod is a new subject besides a couple small tattoos
Planning to install 3 chips in one go
That's ok from what I read right? Figure if my hand is gunna be sore for a couple days, might as well be a bit more sore and get it all done at once
Installer is charging 200$ for all 3 installs
He says he normall charges 80 per, I kinda felt like it he price should be lower since your already set up to keep the party rolling.
Doesn't have to be the best price, just making sure I'm not getting bent on it
Here are my planned locations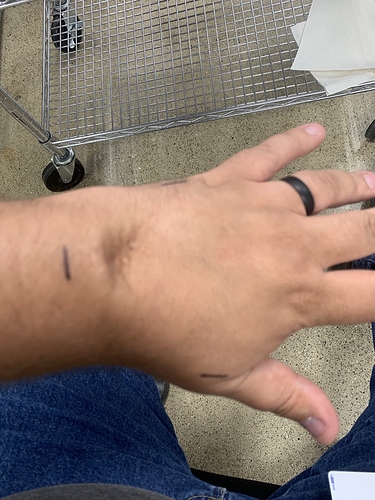 Position 0 will be a Xsiid green
Wrist will be a nEXT
Position 4? will be a xEM
Position 4 concerns me, kinda want knife edge, but don't want it to be part of my hand that contacts a surface if I lean on my hands
Figure I can roll it onto the back of hand a bit, but then there are bones and stuff
I plan to wrap my hand in medical tape for a couple days, mostly to keep my idiot self from over using it and try to reduce some swelling, thoughts?
How do I make sure my installer knows what he's doing? I'm personally not the most worried about it, but if I get an infection I won't hear the end of it from my significant other
Any other tips or advice?