Would some of these would be tested (exvivo) to the point of failure? I.e. taking an out of the body implant to verify and confirm exactly what's needed to break one in terms of static force, strength of impact, etc. (To be fair, I've been kinda curious about the testing processes behind the scenes anyway, but I'm kind of a geek like that. Used to work with nanomaterials in a lab)
We can add some other tests if you have ideas.
Oh, awesomeness (and now I have something fun to read)! Will do, thanks!
Yes please! Although I would have the same question as the cyberise me FAQ has: I have darker skin… would it work?
Also weird question (and I know I'm getting ahead of myself) - would it be possible to make it in different colors? (blue for eg.)
Hey @Kazarelth
Other colors would be possible, but they would be appreciably dimmer.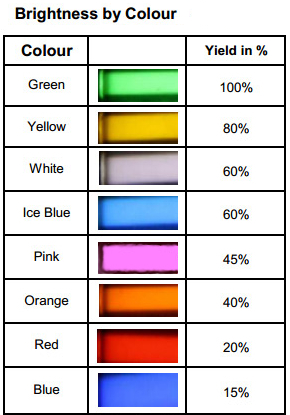 Yeah… no idea… only testing will determine this, but common sense says it will be less effective the denser the melanin gets.
Not weird at all, but probably not. The reason, as @Satur9 already stated, is that green is the brightest color. There are more visible photons emitted by the green color than any other color.
I would also be very interested, what would the expected size be? And would it be powered by the body or would it require wireless charging?
In that case I will be jumping on that as soon as it's available.
a dream would be implantable xLEDs
I agree - to be honest I don't trust putting radioactive stuff in my body, even if it's encased in a blocking material. We have a family history of cancer and I don't want to give it any excuse to start.
I'm also not sure with a chip similar to the firefly, but I must say, I will trust DT more, that this implants are safer.
I think just more fun is to have a xLED so it flashes when someone comes near to your hand with a reader

@JennyMcLane since you're interested in implantable LEDs, would you mind answering those three questions from the beginning of the thread?
Why not ? It would be fun and I say yes if there is no risk to health.
I think having a glowing implant would be awesome if it was not radioactive material.
My feedback:
If I had to use my phone to trigger the glow, I'd pass on getting one.
I wouldn't mind the increase in size to accommodate a battery. I'd definitely go get that professionally done. Jeesh, sounds big!
Sure, a belt that powered the glow sounds super discrete too.
1, I have already one - there is also a discussion about this implant in this forum

I bought it from an otehr store - my implant is fine. (got it in February 2019)
no battery for me. How would you turn on and off the LED?

no - for me would this a problem, we are not allowed to wear, rings, braclets and smimilar stuff at work