Today, my bodymod-artist (again, the incredible Arnulf at Stigmata) and me had a whole lot of fun.
The procedure itself is already well-known here, I think, and it wasn't so much different like the very well-documented one from @Mariarangok - relevant difference for sure is that I was anesthetized, so it didn't hurt at all.
Just the usual strange feeling when skin gets separated and someone pokes around in your hand
My artist made the cut pretty exactly on the knife edge, so it will end up less visible. He was quite disappointed that he couldn't bend the implant at all (without the danger of damaging it), he swore to me before that I would never get a 4-cm-incision for that - that bothered him a lot more than me, I think


During the placement, we checked the position of the blinkies several times, and funny enough - they were red. Like, complete, normal red. Before they got under my skin, they were light blue - I thought they would look at least a little different like the red or purple ones, but noooo… at least not yet.
As for fixating - he had the idea of taping it in place, with a real lot of tape, but ultimately decided against it, simply because it was 30°C today and sweating under the tape would surely lead to serious problems. So just a nice, tight bandage and as little movement as possible (guess it's time for some good old point-and-click-adventures in my spare time…). Currently I'm keeping it elevated, threw in a 400mg Ibuprofen (will take another when I go to bed) and start cooling it. It's slightly uncomfortable, but not really painful - and as usual, I'm really happy with my artist's work. Lots of things to come with him

Got a picture from the end of the procedure, just before cleaning and bandaging - it's slightly bloody, but I don't think that bothers anyone here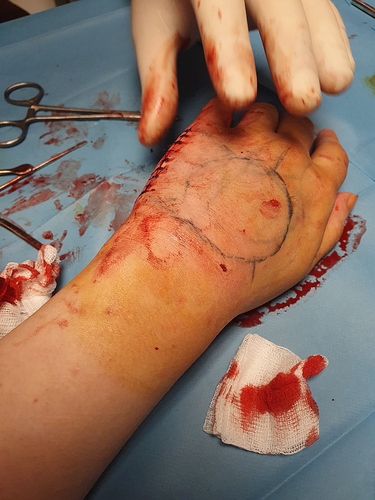 I'll update this during the healing process, let's see how this developes…
Update 1: Cleaned it this morning, at least a little - I'm really happy with the suture, so I took an extra pic of it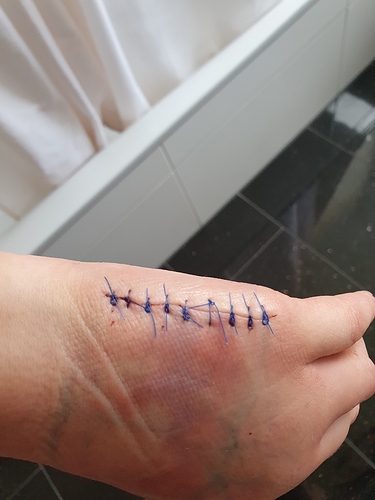 Update 2: 6 days old, swelling is getting less (the implant is already a little visible), still behaving fine