So, I decided to get a spark along with a few other things and it arrives today. Given I kinda want to snoop around the VivoKey forum I am tempted to self install it because well by the looks of things the US I wont be going out in the US for a fair while…
Now given the spark for me will be rarely used I have considered various install spots, so far the winner is the inside of the upper arm. I had not seen any information on this install spot but @Pilgrimsmaster reminded me that it is the location used for contraceptive implants so I started doing some research in that area. Here is an image of the install spot I am thinking of, its basicly the grove between the Bicep and Tricep: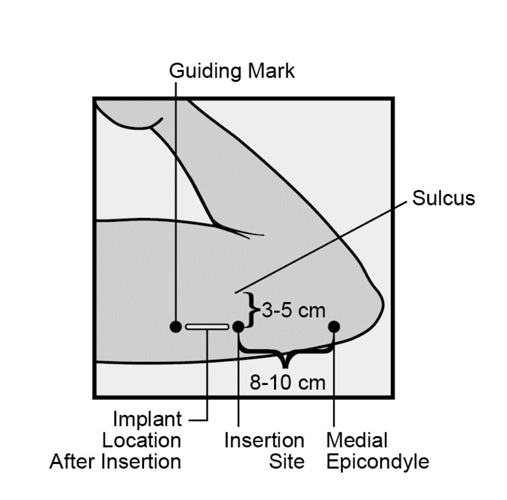 I even found detailed instructions for the install starting at page 4 of this document.
Interestingly they do not do any form of skin tenting but instead pull the skin down towards the elbow then insert at a 30° angle to get under the skin then put the injector down so it is parallel to the arm which tents the skin with the needle. I beleive they do this as the skin is much less elastic there than in pos 0 on the hand.
One thing I was concerned about was the migration risk in that area and according to the FDA for the contraceptive implants it is about 1 in a million that there is significant migration (more than 2 cm in either direction) obviously that would not translate directly to the spark but still made me worry about it somewhat less.
Just curios for anyone else's input on that location, what they think of using the needle to tent the skin there instead of before hand and weather a self install in that area is wise given the relatively large number of significant blood vessels in the area.