Here is what Amal said previously
Ha, No worries. Not on my list.
It will be shipping in a few weeks… first I'm going to collect orders, then I will obtain materials to fulfill those orders and make the batch.
This is possible, but not normal for our processes… I will talk to @mdanger about this.
Not at all hah! The module inside is as rigid as a coin, so yeah no flex at all.
Thank you very much Amal. I have submitted an order number 18325. I asked if it can be shipped in a smaller package/box or protective envelope. Whatever's possible would be great
Thanks
Could this be installed on the back of the hand?
Closer to the wrist than the knuckles
I was thinking the back of the hand on the flat part diagonally back from pos 0
Yeah thats what I'm thinking to
depends entirely on your hand of course… but if there's enough "flat space" available, then absolutely.
This chip has made me replan a lot of placement stuff I had been considering, dam you @amal
lol jks, keep making fun now things

I've updated the listing for the flexEM and added 2mm to the diameter for safety. We had two failures in the field after testing (before being implanted thankfully) so to compensate I have added extra material by increasing the diameter to 20mm from 18mm.
Is this something we should be concerned about? Mine's still in it's box thanks to COVID.
I don't think so… just scan it before you install to ensure it's still working. In both cases I think there was an encapsulation problem and the water component of the chlorhexidine solution got in and caused it to stop working, which is what you want to happen in this kind of situation.
Though if you want to exchange it we can totally do that too, just let me know.
Still haven't heard anything about mine, invoice# 4513 order# 18511. Not that I have anybody to install for me at the moment (still working on it).
@Ima_Wana_Be
Have you tried contacting DT

on their webstore?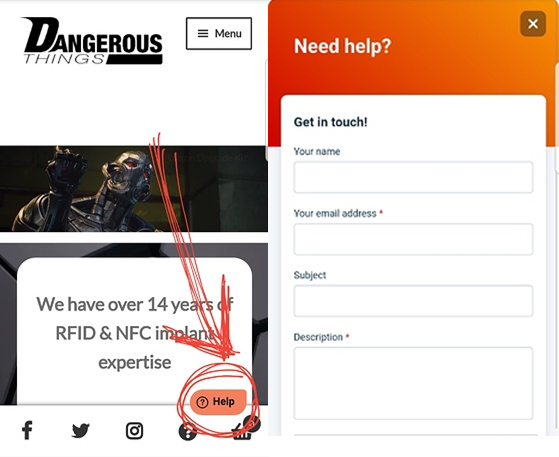 Nope, I sent an email as a response from a different order and I DM'd @mdanger but I haven't tried the help button on the main page. Like I said not a pressing issue until I get someone to help me put it in just wanted to make sure I didn't fall between the cracks.
You sound pretty relaxed, as you should be.

Customer service is awesome, you will be looked after
As long as you are aware of that option, incase you need it
That's too bad. If you email Michelle, she'll send you a helpful reply of course. But press the help button and… Oh man, you have no idea! Within 2 minutes, a jet-black helicopter with a shiny DT logo on the side appears in the sky, hovers above your house, then a line drops down the helicopter and Michelle rappels down in her DT emergency response team outfit and rushes towards you to fix your customer problem.
You really should try the help button…
Man, I thought that was just me… I guess that's how they make everybody feel