As requested by many, here are regular updates on the healing of my right hand (flexNeXT implanted on july 16):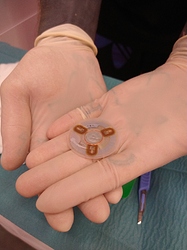 Day 0

Nothing special, can easily scan through hand

Day 1

Slight sweling, not much pain. I'm keeping it elevated. Can't scan through hand due to sweling. Full movement possible but I'm not pushing it.

Day 3

I can scan through-hand again! Slight pain spikes at the sutures but nothing to worry about

Day 3

I cautiously used my hand today and it was ok, I will not keep it elevated anymore. Sutures look ok, will remove them in 6-7 days I noticed the implant has definitely turned. I will try to gently push it the way I want it
IMG_20200719_191832475|375x500
Day 4-5-6

No news good news. Nothing has changed. It has rotated about 10 more degrees…
Day 7

No more spinning it looks like. Other than that everything is fine.
Day 8-9

In two days I take the sutures off! Other than that I have tried to push it slightly to the left and up with no success. I can now fully move my hand, I can only feel it when closing my fist tight.







Day 10 Stitches off

Even though the wound is closed it might have been a bit early so I used 3 steristrips to keep it tight.







Day 11-12-13

The wound looks much better than it did on day 10. I now use silicone cream and leave it open with a single strip.

Day 14 Red circle of doom

After going to the climbing gym. It looks like some sort of allergy, maybe staph infection.

Day 15 Cortisone treatment

Went to the doctor this morning and they gave me Cortisone cream and pills This is definitely not an infection but the fact that it appeared only on the implant is suspicious.

Day 17 Is it better?

The skin is less bumpy and the red patches look smaller and more spread out…

Day 18 Yes it is

The redness is now almost completely gone Looks like the Cortisone did the job! The wound is wider on the side where the implant is pulling on it but it looks strong and healthy. I would have put something to keep it from stretching but with all the creams and irritation I decided not to.




Day 19 Almost gone!
Day 20 The red circle of death has been defeated!
Day 21- 22- 23- 24- 25- 26- 27- 28

Everything is back to normal. The wound is now flat and about 3mm at its widest where the implant is pulling the most. I would have used steristrips to keep it tight but the hole area has been covered in creams lately so I will just let it be.




Day 29 Fading scar

The wound is slowly but surely going away. This silicone cream does magic!




Q&As
Can you feel it at all when moving your hand? Very slight tension when tightening the fist, not an issue. Can do push ups and pull-ups fine.
Why do the purple LEDs look red? Blood pooling over them, should get purple soon.
Did it hurt? With anesthetic, not at all even during the first days.
Is it visible? Right now the thumb side edge pokes out a bit and the opposite side two. You can make out the entire contour when looking closely.
Is it flexible enough to fit through a smaller incision? I wouldn't risk it personally, and 0.5cm less is not worth the effort. I would say 4cm is a minimum.
Are you taking any medicine while healing? Antibiotics during the first week and trying to eat healthy stuff. Silicone cream on the wound after stitches were removed. I took Cortisone to fight a weird rash (see day 14).
Is it migrating or moving? For now it is only rotating on itself at a rate of about 5-15 degrees/day (stopped rotating after a few days).