What would be the charge time for that capacitor?
I'd have to test to verify, but here's the calculation with gud enuf values:
R * C = τ
(1Ω) * (200mF) = 0.2 seconds
Charge time ≈ 5τ
Charge time ≈ 1 second
That's really cool. I was initially skeptical, but it looks like that guy really did put some EL wire in his arm.
@warm
Did you mean putting a tiny piece of electroluminescent wire in the implant glass?
like the induction coil people are recommending for charging (like qi wireless charging) but make it with the electroluminescent wire so the coil itself glows.
DT youtube channel. NFC activated LED implant in action
Wow. You just blew my mind. Let me think about that for a bit. In the meantime, here's the layout of the EL wire: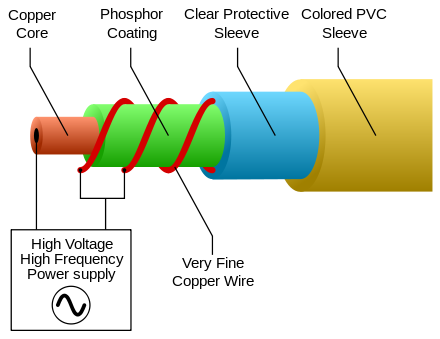 It's basically a coiled capacitor being charged up to ~120VAC @1kHz
That looks really interesting. But also looks like it would be huge.
With the sleeve they can be 2mm in diameter.
Awesome. I bought one earlier today. Can't wait to get it!
Just out of curiosity, any thoughts of combining the xNT with the 13.56Mhz xLED or an xEM with a 125kHz xLED, sort of like the NExT, but with more pizzaz and less functionality?
I would definitely buy that if they released that. It would also show if the chip was within the correct distance within the reader.
Sincerely I find it a pity to take up space for that, would not it be better to have an LED implant with the functions of a normal RFID?
True but if you just wanted to test whether the reader was grabbing info or check the range from chips so you don't accidentally scan yourself then that usefull
I've encountered quite a few people in the body mod scene who couldn't care less about NFC functionality, but they are interested in LEDs for decoration. To each their own. Just because the xLED exists doesn't mean there won't be tag implants down the line that also have an LED. DT is constantly improving their product lineup.
Yeah true. But it doesn't take a whole lot to remove one and replace it
The flex series could be used for rfid somewhere else. Because of that I have no worries about using a space
TOTALLY worth a glass implant that only lights up when in use (or near a reader)
I'm not sure about the sizing of that, and how I'd get it installed. (see also below, where I want things to last forever - batteries never do)
I see implants as lasting the rest of my life (hopefully), but the wireless charging system you're referring to sounds like something with a lifespan.