Hello,
I've just received the Access Controller V2.
And I have multiple questions…
I'm trying to open a magnetic lock, which just has 2 wires, + and -
I've gotten the Access Controller set up.
I've got the add and clear keys set up.
I added 2 keys that seem to work.
I hooked up the electric magnet to the White (Common) on the V2 to the ground on the magnet
and the Green (Normally closed) on the V2 to the positive on the magnet.
And nothing.
I'm assuming that isn't right…
I don't have the control board like in the youtube video, so I think I've wired it wrong.
Or need to supply external power to the magnet in some way.
Do I need a separate power supply like in the video? To give power to the magnetic lock?
Or a relay between that power source and the controller?
Sorry for my lack of knowledge, I'm trying.
Also, more questions.
I've already purchased a few wrist bands, and also a ring (from amazon) that are programmable.
So I'm assuming I wont be able to add them unless I have a proxmark 3 or similar to program them first? They have T5577. Maybe I should just buy some pre-programmed ones for now?
this is the video I'm referencing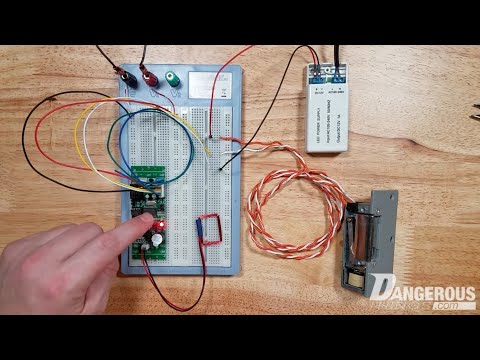 This is the wrist bands I'd already gotten, not knowing anything.
This is the ring I got, also without knowing what to get.
And this is the magnet I'm trying to power.
It says it takes 400ma at 12v
My idea, in getting the rewritable ones, was to be able to change frequencies if anyone ever got access to it.
Not knowing how complicated the Proxmark 3 is.
Hope I worded that to make sense.
What I need the most help with it powering the lock to have it work.
I plan to have two locks in total. And also 3 exit switches. If that information is useful.
It works if just plugged into power, but not the way I'm hooking it up the the controller.
Please forgive me if I've used the wrong jargon, I'm totally new to this, and struggling with the learning curve. I'm also going to edit to upload the wiring diagram for my Electric magnet.

Thanks!
Dan