Hi everyone,
So I have a NExT, xM1 and xSIID that I want to implant in my left hand / arm. I have read quite a few of the posts about alternative installation locations and have a preliminary plan for there locations. And I hate to add another thread about where to put implants
, but the information available is essentially overwhelming so I would really appreciate any input from others

The NExT is going in the standard location.
The xSIID I am quite comfortable with after talking to @Devilclarke about his one in the same spot.
However the xM1 I am still unsure about. I want it easily readable, in a place that won't interfere with the other 2 and the back of my forearm seems best so far, I also was considering the knife edge of my wrist maybe an inch back from the joint.

Here is my rough placement map atm: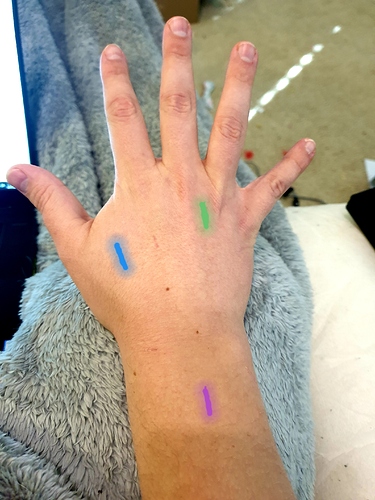 Key:
Blue -> NExT
Purple -> xM1
Green -> xSIID
Note:
I want to keep my knife edge free for the apex, and my other arm is a no go atm as I am considering a full sleeve tat.