It occurs to me that having more people shooting good quality video could only enrich us all here. So, I thought I'd show how I'm homebrewing my setup.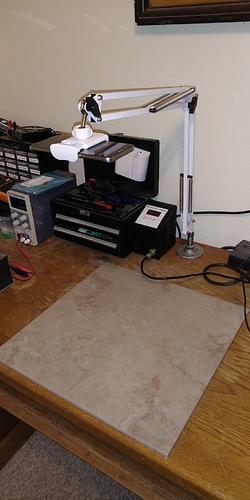 The arm is sold with the purpose of holding your phone so your arm doesn't get tired. Puh-leaze. The ad pictures of fit smiling attractive people using it are even worse. This sucker is designed for people too lazy to get out of bed and / or hold their phone up. BUT, flip the phone over and point the camera straight down, BAM! Instant steady cam.
I had to change the mount out. The original is a clamp on affair, that won't fit my desk. I used some plumbing supplies to get an upright piece of 3/8 pipe. The arm just neatly slides into it.
The phone I'm gonna use is a Samsung Note5. It has two microphones. The one used for phone calls went out, and that's why it was put into the junk pile. Everything else works just fine.
I still need to:
Get software for the phone, and PC (DroidCam looks ok-ish.)
Finsh setting up PC (Needs monitor / keyboard / mouse.)
Find a USB extender cord. I have a couple, but all in use. I could go with a longer cord, you can buy 10ft one, but the factory cord snaps in place really well. Everything else is loose fitting.
Also need to consider adding some indirect lighting to banish the shadows.