Community Project: HF LED Power Accessories
Anyone who would like to contribute feel free to add your thoughts here. If you need to make purchases to support your contribution to the project, see this thread, and direct message @amal or @Satur9 with details. Project threads can get a little out of hand with tons of people brainstorming. I ask that you limit your messages to the topic at hand. Try to condense multiple messages into one post
— — — — — — —
A team of forum members and I have been attempting to design a wearable device that outputs a HF signal to power LED implants. It is purely for aesthetic purposes. The first build will be a bracelet, but it could be adapted to other form factors after some testing.
The project has died down over the winter months, but I invoke the power of resurrection now and summon the team members!
@Vicarious! - @Leeborg! - @Naus3a!
Unfortunately I can't find @Haruspex on here, but I suspect my Shout will echo to the halls of Discord.
The new member @leumas95 has summoned us to action. If we loop in everyone else on the forum, we may actually get a working prototype out of this and we can format it as an instructable or something.
There's a bunch of legacy info we can loop in if need by, but here's an update on where we were at last check. I figured out how to make a Pierce Oscillator
Rough Schematic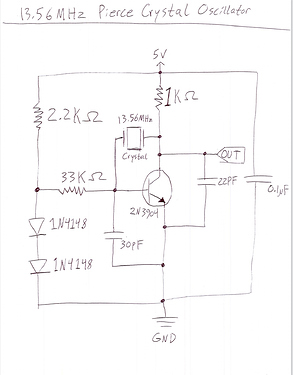 Breadboarded Circuit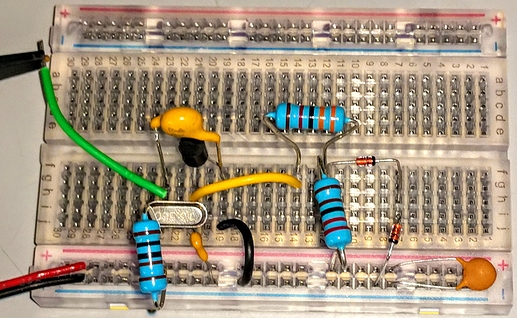 Oscilloscope Output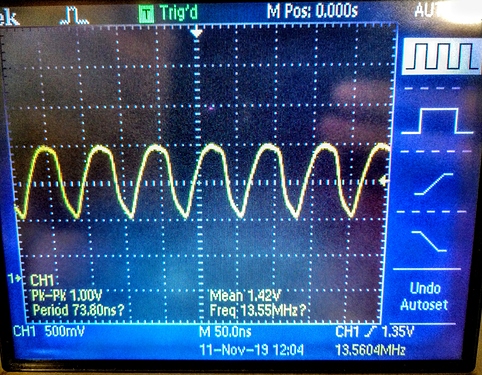 Hypothetically an appropriate inductor could be placed in series with the 1kΩ resistor at the beginning. I tried a couple through-hole discrete inductors I had lying around, but I wasn't able to light the HF xFD. There's also the possibility of connecting the gate of a high switching speed mosfet to the wire labeled "OUT" in the diagram, and using that to control current flow to the coil.
There are also other types of oscillators I haven't gotten an opportunity to fully test out yet because they rely on inductor and capacitor tuning, not a tight tolerance crystal oscillator.
There is a ton more that can be done in this area I just don't have the bandwidth to address it at the moment with other priority VivoKey development and my full time job. Feel free to contribute in any way you can.
Stretch Goal:
Resonant circuits that light LEDs from up to a meter!